Of all the key skills honed by experienced travelers, the art of not-getting-ripped-off looms large. Whether you are a backpacker on a budget or have more money than sense, knowing that you are overpaying for the something that can be purchased for cheaper around the corner, is disappointing.
One of the most enchanting aspects of adventuring through Peru is the variety and extent of street cuisine; equal in taste and authenticity to food found in hotels, shops and restaurants – and yet, much of it is available for one Peruvian Sol (around US$0.30 or £0.20)! It is at the wheeled street stalls (called ambulantes) that you can dine like a local at economical prices.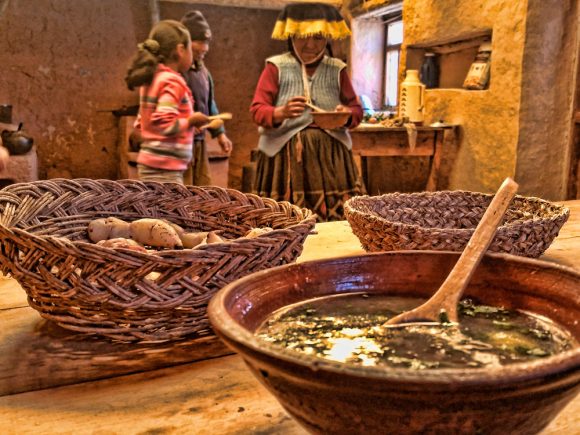 Sweet Churros
Peru is a mecca for sweet tooths, yet offers a range quite the opposite of Nestle and Cadbury's. Churros are the most famous sweet in Peru; long, crispy strips of deep-fried dough sprinkled in sugar. Perfect to snack on. 
A fruity, sweet slice of pineapple & watermelon
Fresh and refreshing; delicious and healthy; and most importantly, convenient: are large fruit chopped up into bitesize chunks, saving you the hassle of preparing this snack before you venture out. Available for one Sol on most street corners and small shops.
Warm breakfast with quinoa, maca & kiwicha
The standard hostel or hotel breakfast that consists of bread and jam (and eggs if you're lucky), can be repetitive. A tastier and more adventurous alternative can be found in Peru's typical hot street breakfast. Quinoa is a highly nutritious grain crop, kiwicha is a seasonal plant with edible leaves and seeds, and maca a root vegetable. Each is served in a cup and will cost one Sol.
Additionally, you can buy a hearty triplé sandwich consisting of egg, cheese, tomato and avocado (or palta). This offers a tasty and more substantial alternative to your standard breakfast. Better yet, it gives you the energy to venture out onto the cobblestone streets and dirt paths, ready to explore what Peru has to offer.
Hot tea for cool Andean evenings – Emoliente
This is a Peruvian tea that cannot be found in shops and restaurants, called emoliente. Like most other street foods, it can be found for one Sol at ambulantes, where local people usually queue to warm themselves up on chilly evenings. It provides the warmth needed to keep wandering as the chilly dusk descends. Read more about emoliente tea.
Andean treats for every occasion – habas, platano dulce & canchitas
In between meals, it's still important – or sometimes just enjoyable – to eat. Long treks and tiring architectural tours can require some extra fueling. Peru has many types of snacks; sweet, salty or spicy.
Some of the most famous are habas, platano dulce, papas or canchitas. All ideal as an aperitif for a beer or pisco sour.
Haven't had enough yet? Picarones!
Picarones are a deep-fried bread drizzled in honey, resembling something like a doughnut. Not necessarily the healthiest snack option, but definitely good value and full of energy.
What did you say about quail eggs?
A rare delicacy in many parts of the world, quail eggs are a standard street food in Peru, and are extremely delicious and healthy. You can get between 4 and 6 eggs for one Sol.
Peruvian street food will take you to where the cities and towns breathe, indulge you in new and exotic textures and flavours, and simultaneously spare your wallet for greater adventures.

Buen Provecho! Bon Appétit!