Emoliente – the medicine of the Peruvian Streets
Winter in the Andes can be cold, there's no doubt about it. But how do you warm up when it gets too cold? The answer is with emoliente – a Peruvian tea and medicinal beverage prepared with various herbs. It's both healthy and cost-effective. One glass costs only 1 Sol, including what we call "yapa", which is an extra free serving!
Where can you find emoliente?
Emoliente is famous across Peru, served from mobile carts which appear without fail on street corners around from 6:00 PM, like mushrooms after the rain. Just go for a stroll and you will surely come across one of the tell-tale carts stocked with bottles of colourful liquids.
The vendor will ask if you'd like a hot or warm cup, and within moments they'll have whipped up your drink!
This "magical" tea contains a variety of plants and herbs. Moreover, if you're having health problems, you can explain your symptoms to the vendor and they'll prepare the most appropriate blend to address your issue. Every bottle or tub contains a different herbal liquid, many of them sourced from the Amazon rainforest.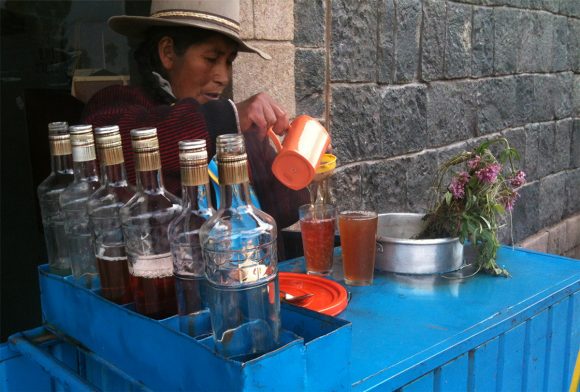 The most common plants which are used in emoliente are:
Boldo (Peumus boldus)
Cats claw (Uncaria tomentosa)
Aloe vera
Stonebreaker (Phyllanthus niruri)
Alfalfa (Medicago sativa)
Because of the flavour and potential health benefits of drinking emoliente, it's worth drinking even if you're perfectly fit. At the very least, it'll keep you warm on your evening strolls, particularly in the Andes where the temperature drops significantly once the sun sets.
Is emoliente available outside Peru?
Emoliente is also popular in Ecuador and considering how similar Bolivia is, it wouldn't be surprising to find it there too. Even with the growing development of Peru and its neighbours, it's great to see that these traditional small businesses can still be found everywhere – owing to the fact, I think, that Peru especially is a country of traditionalists.
The main ingredients
The ingredients of emoliente can differ depending on the region and the availability of herbs. But in general the main ones are:
Dried horsetail (Equisetum spp.)
Barley
Flax seeds (linaza)
Llanten (plantain leaf)
Chopped quince (optional)
Water
Sugar or honey
Lemon juice
These ingredients can be found in every local market. You'll find them stored in plastic bags. You just need to boil them. But there's a process – first, the roots and seeds, which take up to an hour, then the leafy parts.
During your visit to Peru, don`t forget to try this typical beverage! Who knows, maybe you'll fall in love with it as we did!
Cheers!