Cevicherias of Peru
Peru is famous for its meat-rich cuisine. As a foreigner, you will be offered many dishes with meat as the main course. But once you visit the city markets you will notice a lot of smaller restaurants and buffets called Cevicherias: they serve the most famous Peruvian fish dish called Ceviche. If you are a fan of seafood and fresh fish, it's a must-try. The most important ingredient is a friendly green fruit, used for everything here; the green lime known as Limón. The magic juice of this lime is capable of transforming a piece of raw fish into a delicious meal. It is, therefore, the one ingredient that remains irreplaceable to Peruvian cuisine.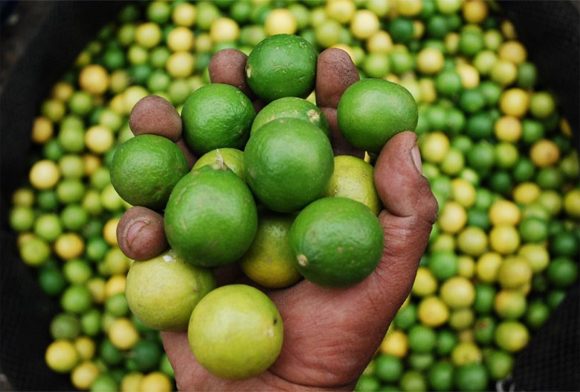 Ceviche is not the only dish in which Peruvians use their unique Limón!
It's not just the carnivores who can enjoy the taste of Ceviche, as there are multiple options for using the homemade lime vinegar with vegetables, instead of fish. For example, you could prepare it with fresh mushrooms which marinate perfectly in the lime juice to become a dream raw food for all vegetarians and vegans. It can similarly combine with any other vegetable, be it an onion or salad. Another benefit of using lime juice is to reduce the amount of salt required in a dish. As a rule of thumb –  the more lime juice you put, the less salt you need.
Peruvian Limón is also a component of numerous salsas and gives exceptional flavor to many typical dishes. Peruvians wouldn't imagine eating a meal without this small green ingredient. They add it to almost everything, from soups to different kinds of main courses. The first thing served in restaurants is always Limóns and some salsas (including spicy ones).
Peruvian Limón in the health industry
Not only is it widely used in the kitchen but it's also very popular in the beauty and health industries. Whether applied as an organic antiseptic for a sore throat or a liquid for pore reduction – it seems to be a unique product that can help in different areas of life and is completely eco-friendly.
Peruvian Limón in drinks
The last property of the Peruvian Limón to be mentioned – is its party friendliness. It pairs well with another famous Peruvian product, the alcoholic drink called Pisco. Made out of grapes in special conditions, prepared for over 2.5 years – it's another delicacy you cannot miss. One of the most common combinations for Pisco cocktails is lime. The top cocktail called Pisco Sour normally contains Pisco, egg white, honey, and Limón. It has a refreshing taste and is the ideal companion for a night out during your trip. Highly recommended!