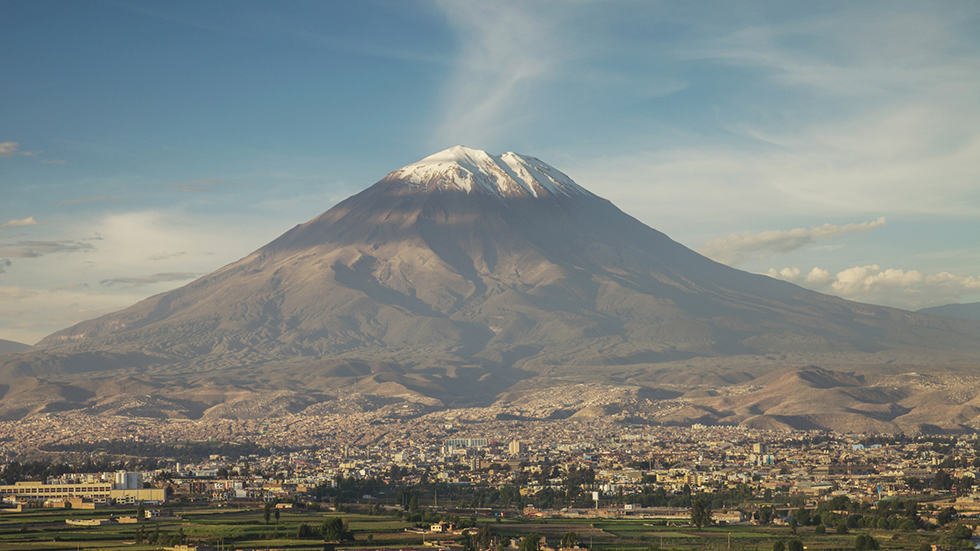 The Misti volcano (5825m) is located in southern Peru near Arequipa city, the second largest city in the country. The Misti is a Quechua name and means the gentleman. The Misti volcano stands at 5825m and lies between Mountain Chachani (6075m) and the Pichu Pichu Peak (5669m). These impressive mountains are visible almost year-round but especially during winter (April-December).
Misti has been active numerous times since historic records began. The last strong eruption of Misti is thought to have occurred between 1438 and 1471. The last eruption of this volcano was in 1870. The archaeologists have found several Inca mummies near the crater. Most of the city's colonial buildings were constructed from El Misti's white volcanic stones.
The Misti volcano is the most popular symbol of the city of Arequipa. To climb this volcano you don't need a preparation for it is not really a mountain, it is a volcano with a layer composed of ash and volcanic lava. The only difficulty by climbing this volcano  is in its volcanic ash and sand that sometimes form dunes.
This one day tour will start early in morning with our transfer from your hotel to the Volcano. We will get instructions and start our hike up the volcano. We can enjoy our time exploring the beautiful sights of El Misti. Closer to 3pm we will begin descending and get our transfer back to Arequipa.