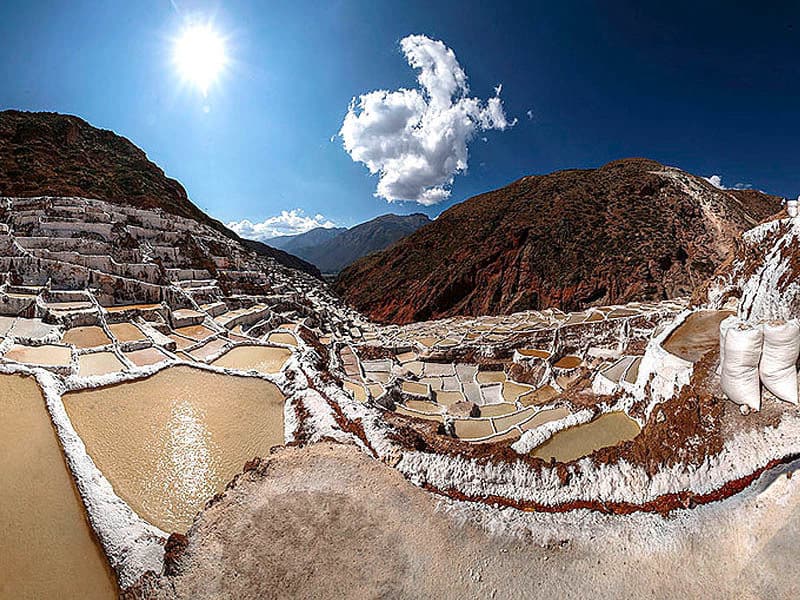 This tour combines the visit to the villages of Chinchero, Moray and Maras. You will be able to see Chinchero's impressive ruins, sidewalks and textiles, after that we will have a small bicycle ride in the direction of the agricultural laboratory of Moray (Circular terraces). Finally we will visit the famous salt mines in the town of Maras.
The beauty of the landscapes through this route are indescribable as we can appreciate snow mountains, colorful fields (potatoes, beans, quinoa, among others), in addition breathing the purest air of the Peruvian Andes.
This tour allows you to combine history, tradition, hike, bike and beautiful landscapes during a full day.
There is no better place in Cusco to enjoy a peaceful walk surrounded by fields and agricultural plantations, beautiful landscapes, where you can take a short bike ride. At the same time you can enjoy the most famous tourist attractions such as the agricultural laboratory of Moray, Famous Chinchero ruins and textiles, as well as the salt pits in the salt mines of Maras.
We will start our tour early in the morning and go straight to Chinchero, where we will explore the ancient ruins and get to know more about the traditions of the peruvian textile culture and support the local artists buying the authentic handmade pieces. Then we will continue to our next destination Moray, where we will have some lunch and explore the site. Our last part of the tour will take place in Maras and from there we will make our way back to Cusco.