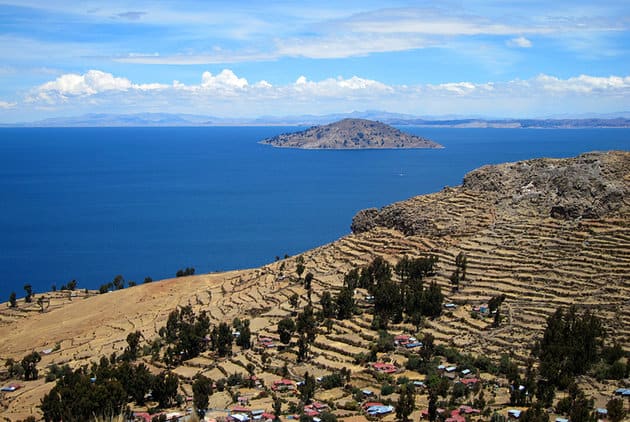 The island of Amantani belongs to the district of the Region of Puno. It is located to the east of the peninsula of Capachica and to the north of the island of Taquile, in Lake Titicaca. It is almost circular with an average diameter of 3.4 km. It reaches an area of ​​9.28 km², being the largest island of the Peruvian part of the lake. Its maximum height, at the top of Mount Llacastiti is 4150 m.
The population counts approximately 800 families, distributed in the 8 communities of Santa Rosa, Lampayuni, Sancayuni, Alto Sancayuni, Occosuyo, Incatiana, Colquecachi and Villa Orinojón plus the village. Its main means of subsistence is the agricultural activity. The local communities produce potatoes, geese, barley and beans. Its textile production is similar to that of Taquile, both in variety and design. Due to the existence of granitic rock in the hill Llacastiti, there has been developed a tradition of cutting and carving of utensils for everyday use and for decorative elements in construction.
We will pick you up from your hotel in Puno early in the morning and bring to the port, where we will start our boat ride. After approx. 4 hours ride we will arrive to the beautiful island of Amantani. We will spend 3 hours hiking with our guide and have some dinner after. Later we will continue our walk during an hour and make our way back to the boat.
The benefit of this hiking is definitely its location. Being an island it opens amazing views in all directions. This tour requires good physical condition.