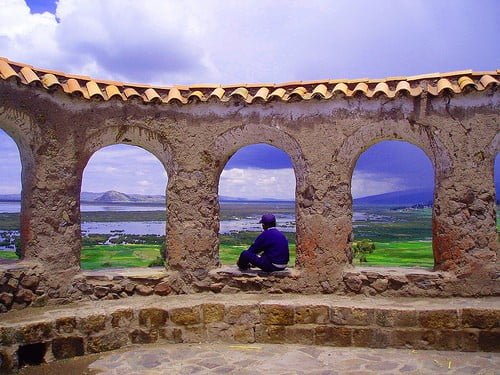 Chucuito is located 18 km south of Puno, on the edge of the road that leads to Desaguadero and La Paz (Bolivia). Chucuito is also known as the «Ciudad de las Cajas Reales» because it was the center of collection of taxes during the colonial times.
We will do the trekking to the hill Atoja through Santa Barbara street and climb until we reach the top. We will enjoy the  picnic on top, being surrounded by the amazing scenery. Later we will walk to Talaca community and learn more about local traditions.
This tour normally consists of 2 days.
Day 1: We will pick you up from your hotel and go to Punta Hermosa. On our way we will also visit the temple of fertility – Chucuito and some colonial churches. After approximately 3 hours of bus ride we will arrive to the port and take a motor boat to the island Anapia, which would take us 1.5 more hours of ride. After having lunch, we will enjoy the island's surroundings and at night we will continue our cultural exchange with locals. Dinner will be served at the house where we'll stay overnight.
Day 2: After having a breakfast we will ride in sailboats to the island Yuspique. Observing flora and fauna (Yuspique island is a reserve of vicuñas) we will have a typical lunch. In the afternoon we will have a transfer by boat to the beautiful point and return by bus to Puno.