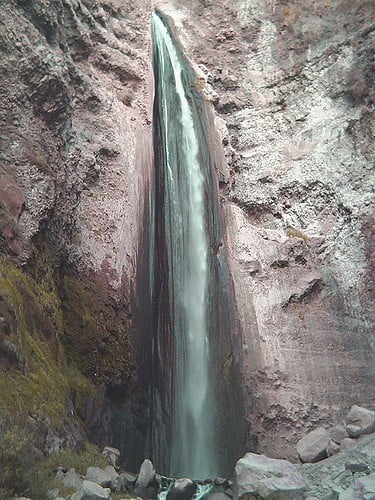 Cataratas de Capúa  are located just an hour away from the city of Arequipa. Here you can expect the beautiful fall of the waterfalls that surpass 30 meters in height.
The Capua Falls are located in the district of Yura, about 25 km northwest of the White City. The bus ride takes one hour, after which you will have a walk of an hour and a half. You will enjoy the landscapes such as the gorges, plains, canyons and fields of cultivation of onion, potato and corn from a height of 2,680 meters above sea level. At the end of the excursion, as a reward, we will be able to enjoy three impressive waterfalls. The smallest is over 15 meters and the highest reaches up to 30 meters. All these nature wonders are accompanied by various flora. Another option before returning is to go to the thermal medicinal baths which are located in the foothills of the Chachani volcano. These four wells date back to the 19th century and have healing properties.
We start the tour from the village of La Calera, a traditional place in the district of Yura, where you can see a path with many types of cactus. This landscape accompanies us to the Capua ravine or Capua background with a great variety of wild flora. Then we continue the excursion through the canyon of Capua or Corontorio following a path of 2 km that lasts about half an hour. There you can see water leaks and variety of shrubs covering the immense canyon stones. The main figure of the flora is the Tail of a horse that grows between the reeds and aromatic shrubs. This indicates that less than a kilometer away, you can see the transparent waters of the Capua Riachuelo.
After enjoyng the spectacular waters we will bring you back to your hotel in Arequipa.